I've had a super last couple of weeks with a lot of exploring and fun! Two weekends ago I travelled to the southern province Limburg with my host family, we went to the Drielandenpunt (a place where Belgium, The Netherlands and Germany all meet) We also went to the highest point in the Netherlands, the two places were conveniently in the same spot! We stayed with some friends of my host family in a really cool village and I got to practice my Dutch a lot with the kids there. Last weekend was Hemelvaartsvakantie (four day weekend) and we travelled to Zeeland. Did you know New Zealand was actually named by Abel Tasman after the dutch province Zeeland?!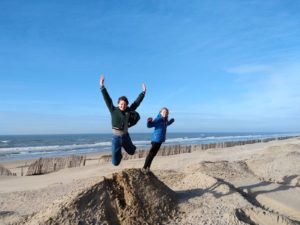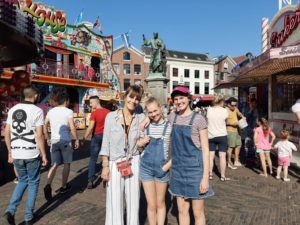 We stayed in a fancy campsite with a bouncy pillow, indoor playground, flying fox and swimming pool. We cycled to the Deltaworks and across a few of the famous Dutch dykes. We also cycled to a nature reserve called Neeltje Jans. Unfortunately I got a stomach bug and vomited a few times on one of the days but I recovered quickly and had a great time. There was a bustling beach near our campsite and we visited it a few times. Not to mention that it was 24-28 degrees the whole time so it was super lekker weather!
One of the things that I love about the Netherlands is how varying it is and close everything is. You get a bit of everything here, Beautiful forests, stunning beaches, giant cities, historic cultural places… The only thing they don't have are mountains but we have plenty of them in NZ so I don't mind 🙂
Introducing Bolderkar racing
When it was really windy my host dad Joel, host uncle Arnaud and I created a new game, we call it bolderkar racing! We got out Joels kitesuft trainer kite and used it to pull us along the dyke in the wind. It was great!
Hide and seek in the sand dunes
I just came back from a brief holiday to the Dutch island Terschelling. It certainly wasn't a tropical island though… The wind was howling like crazy on the first day but luckily the weather got better as time went by. I got to know my extended host family a lot better and It was great fun. One thing I am confused about in the Netherlands is ticks in the dunes. In NZ if you go to the beach and run around in the sand dunes the only thing you have to worry about is sand down your pants… but here in the Netherlands you always have to check for ticks. If you get a tick you have to get it out asap otherwise you could get lyme disease (pretty serious, eek) None of this stopped me though, We played verstoppetje (hide and seek) in the dunes for hours and none of us got ticks…
Climate Change Youth Strike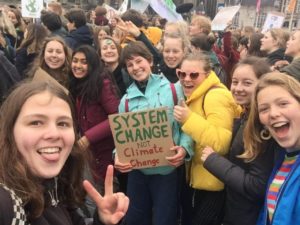 Last month I partook in the the 2019 youth climate strike. It was an experience I will never forget. I travelled by train with my friends to Amsterdam and we walked from Dam square to Museum square chanting and showing the we care about the climate and our futures. Over 6,000 students took part in the strike and I am so glad I did too.
School life in the Netherlands
I have now been attending "Het Schoter Middelbarre" school for about a month now, I have to admit that settling into a new school is more difficult than I thought it would be but it is all coming together now. Everyone is really kind and friendly with me at school. Some students are very comfortable speaking English to me and others are too afraid, everyone speaks really good English and I appreciate all the translations. My Dutch has now progressed quite substantially and sometimes people speak to me in Dutch. At the beginning when the other students talk between themselves you can't help feeling left out or worrying that they are talking about you, but once you get to know people you realise this is not the case. Although It may be really difficult and scary trying to speak a new language it is really worth it and the other students are all really impressed and appreciate your attempts at learning their language.
While getting used to a new school I have also realised how much effort it is to make new friends. In New Zealand I have a practically perfect group of friends and we all get along like a house on fire. Me and my NZ friends I have pretty much been in the same class for four years and I haven't had much of an opportunity or need to make new friends. I have now made some really good friends and at my new school and we have heaps of fun together. Living in Holland has made me realise how important it is to keep making new connections with people and always making new friends. I never thought about it before but I the future I'm not going to always be around my high school friends so it is really important to know how to make new friends and get to know people.
Another challenging part of settling in is missing usual routines and what you "could" be doing if you were at home. One of the things I have now realised is how much effort parents put into organising activities for you, for the past couple of weeks I have been trying to find a dance school to take lessons at and I have discovered how many carefully crafted emails it takes to organise going to just one dance class a week. I now understand the length of this process and I am so grateful to my mum for organising 10 + hours of dance classes per week as well as juggling my brother and her own personal activities. Living in The Netherlands has given me a great opportunity to take organisation into my own hands and I think this is a beneficial experience for the future.
Hitting the ground running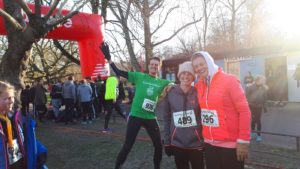 A few weeks before I arrived in Holland my host family contacted me to ask if I wanted to run in the famous Vondelparc loop with them and their extended family. At first I was a little sceptical as in my head I thought that I would need time to settle in before trying out new things but then I remembered NZIIU and Travel Actives advice, "try out the first 5 things you wouldn't normally do" so I entered the event and a few weeks later did it. It was a great way to bond with people I am going to see a lot in the next half year and I have no regrets.